I mentioned in my A to Z Challenge posts (April 2017), that I had some goals that I wanted to reach by the last day of my thirty-ninth year of life. So, I'm going to use this page to continually update. I guess I should have 39 things? Since that corresponds....
Numero Uno
The first thing is a big one. I want to visit all of the United States. I've been to 25 out of the 50 as of 5/15/17. I'm half way there but I am not counting places where I have only been in the airport (Arizona, Utah, Ohio and New York.)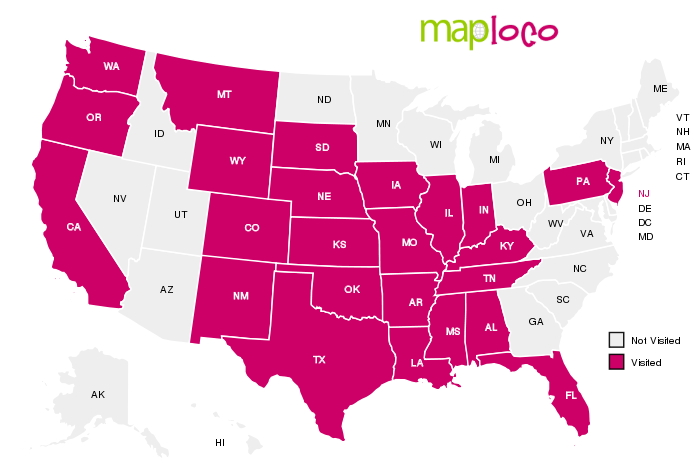 Create Your Own Visited States Map
Twosies
Read 39 Books
Third
Master's In Biological Education and to attend the graduation ceremony
Four
Visit some cities for an adult only trip: Chicago, New York and New Orleans
Five
Overcoming that fear of falling by: I've realized I really don't have this fear. Mind over matter.
ix
Thirty Days of Pinterest -- Make something or do something everyday that I have found on Pinterest
Seven
Attend/Compete in a WFTDA championship/playoff/regional competition.
Eight
Completely research one branch of my family tree. If that goes well, attempt more. (I purchased the Ancestry DNA kit, hoping that will help me out.)
Nine
I still want to do the Midnight Picnic with someone and we can count stars. I'm sure we can count them all.
Ten
Adopt a Family at Christmas time
Donate Blood
Heroes Pull For Special Olympics -- did the thing March 2018
Volunteer at the Ronald McDonald House
Collect Cars for Henry's Haul (toy cars)
Create homeless bags to give out to...well...the homeless....
Eleven
Attend a Murder Mystery Dinner Party
Twelve
Homestead Crater
Thirteen
See a Solar Eclipse -- August 2017
Fourteen
I want to visit an Ice Hotel and have drinks in the bar
Fifteen -- Foreign Travel
Get a flipping passport -- arrived in the mail on 3/20/18
I also really want to visit Iceland
Canada with the fam -- June 2018
Mexico!
Sixteen - National Parks Travel
Badlands National Park - May 2017
Devils Tower National Park - May 2017
Yellowstone National Park - June 2017
Grand Tetons National Park - June 2017
Olympics National Park - July 2017
Sitka National Historic Park - June 2018
Wrangell-St.Elias -- June 2018
Seventeen
Family Pictures! Every year!
Eighteen
Go on a Cruise! That might be how I make it to Alaska. -- scheduled June 2018
Nineteen
Play Bingo at one of those huge Bingo Halls. And Win! I have to keep going back until I win.
Twenty
No Credit Card Debt
Twenty One
Be a Tourist in Kansas City
-- pick five things and do them!
Twenty Two
Complete a 1000 piece Jigsaw Puzzle
Twenty Three
Find a Pen Pal -- either snail or email
Twenty Four
Go on a Spontaneous Road Trip -- THIS! This is going to be hard.
Twenty Five
Pan for Gold -- May 2017! We did this while on vacation!
Twenty Six
Make my house, my dream house -- I have the space and the house.
Twenty Seven
Write a Xenogogy -- about all my adventures and places we go.
Twenty Eight
Float Trip!
Twenty Nine
Take a Train Somewhere
Thirty
Buy my domain name
Thirty One
Alli wants to go to an escape room, so we will do that.
She also want to try Bubble Tea?
Thirty Two
Complete the #atozchallenge each year
Thirty Three
Thirty Four
Thirty Five
Thirty Six
Thirty Seven
Thirty Eight
Thirty Nine